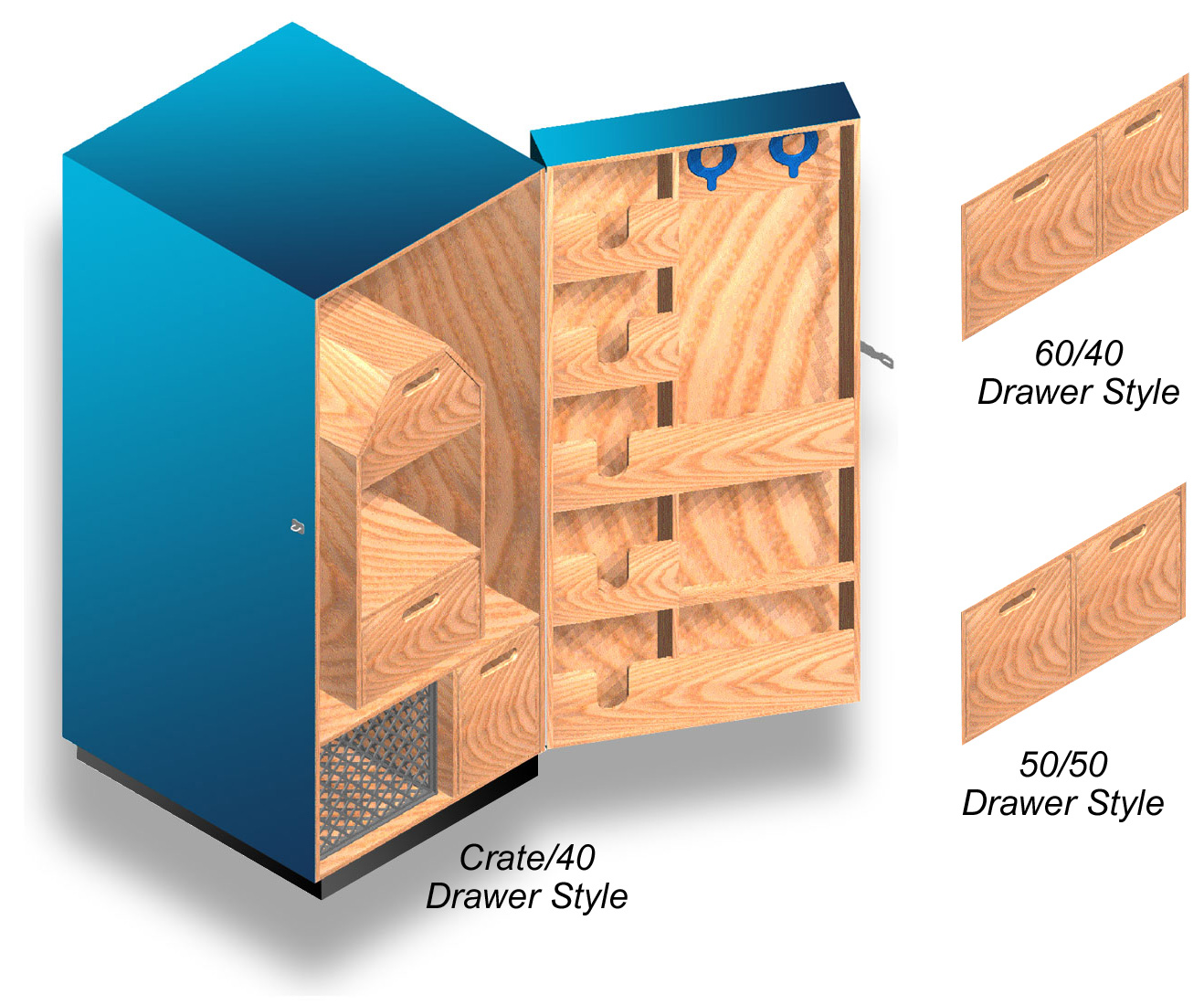 Elite Tack's WESTERN TACK CABINET, This is the one you've been waiting for, designed
"For the Horse Owner, By a Horse Owner." As you will see, it meets all the everyday needs of todays Western rider.
This tack cabinet is low-cost, simple-to-build, lightweight, compact, mobile, and
incorporates all the elements of intelligent design.
Made of sturdy plywood construction it measures 57-1/2" high x 25" wide x 32-1/2" deep.
Choose from three different Drawer Styles, dependent on your needs or preferences.
Each one affords more than enough room to hold all those essential items for your horse!

---
Elite's unique Saddle House design is an innovative containment, which will easily accommodate a Western Saddle, pad/rug and cinch. Directly below your saddle is the Saddle House Door compartment. This convenient space is allocated for your riding helmet, hat, gloves, spurs and other small items.

Beneath the Saddle House Door is the Groom Shelf; here is where your grooming tote box is placed, front and center accessible for your everyday grooming chores. Right below is the handy Groom Drawer, offering a convenient place for hoof-care products, grooming clippers, coat-care products, and other grooming essentials not ordinarily in your tote.

The Main Shelf separates the cabinet. This area lets you avail yourself of one of three storage options:




Crate / 40 Drawer Style: The removable Plastic Storage Crate is great for pack & go
riding items or just plain storage, such as extra saddle pads/rug, anti-sweat sheet, cooler
and all those other hard-to-fit items. The 40 Drawer is good for items such as
vitamins/supplements, vet wrap, wormers, and vaccines, and don't forget the horse treats!

60 / 40 Drawer Style: The 60 Drawer replaces the plastic storage crate. It can hold a
variety of items, such as lunge line, fly spray, chaps, ropes, leads and horse boots/skids.
This fits right alongside your 40 Drawer contents.

50 / 50 Drawer Style: For those who want things equal. You can build two same
size Drawers, which can hold a huge variety of items.
Inside the Cabinet Door there are two standard plastic coated Bridle/Headset brackets to hang your hheadsets, reins, and extra halters on . There are also five Polo Wrap Pockets and a place for those bulky quilted leg wraps and shipping boots. This Cabinet sits on top of four swivel casters, making it the ultimate in ease to move as needed.

---
Materials Needed
Lumber




Hardware

4 - 1/2" x 4' x 8' Plywood
1 - 3/8" x 4' x 8' Plywood
2 - 1/2" x 3/4" x 8' Pine
1 - 1" x 3" x 10' Pine
4 - 2" Swivel Casters


1 - 2" x 72" Piano Hinge
1 - 1-1/2" x 12" Piano Hinge
1 - Hasp Lock
1 - Magnetic Catch
1 - Plastic Crates
---
With a place for everything and everything in its place, you're sure to be pleased when you choose
ELITE TACK'S WESTERN TACK CABINET.